How do we get plastic out of our shops?
For the past year the three shops managers and I have been in a prolonged discussion about how to get rid of the plastics we use in our retail shops.  This has been intensified by the decision of the big supermarket players to rid their chains of single-use plastic carry bags by the end of 2019.
We have very consciously made the decision to offer discounts to our coffee customers who bring their own reusable cups.  We have adopted a 'paper or plastic' policy, offering customers the choice in carry bags and sliced loaves.  And we recycle as much as we can in our daily use instead of putting all our waste in the rubbish.
How do we go further?
For the month of Plastic-Free July, not only are we selling Cuppacoffee reusable cups at a discount (with your first coffee still free), but we are doing away with our single use plastic carry bags in favour of paper or corn starch alternative.
We also hope to avoid using plastic bags to package our half dozen roll specials (which we've been trying to phase out this year) and hope to avoid these same bags to package sliced loaves.
To me the sliced loaves pose the biggest problem.  We often slice these to go in the freezer and I'm not convinced that paper or cotton bags keep sliced loaves as well at sub-zero temperatures.
However, I am convinced that these plastic bags can be reused successfully again and again to freeze more loaves and buns.  Zip-lock bags also work well for freezing bread and are hardy enough to keep on using.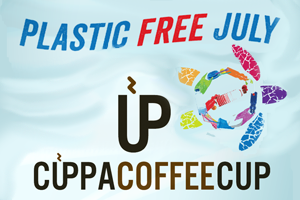 As a customer, does it all this plastic use bother you?  Is it just a matter of time and practice before carrying around our own reusable bags becomes second nature?
Are you prepared to pay for your carry bag should you need one?  Pak N Save have done this for years as have The Warehouse in recent times.
I think Wild Wheat needs to go a step further and get rid of single-use plastic bags and replace these with the paper and corn starch alternatives.  Yet at 20c cost for an environmentally-friendly bag (as opposed to 1c for a plastic carry bag), we cannot absorb this cost by ourselves with our products at their current prices.
So up for discussion among the managers next month:  cost, incentives and latex gloves!